Belfast City Hospital to open emergency department wards for older people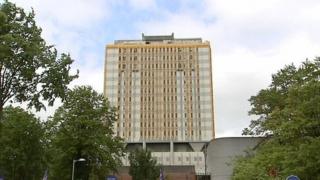 Belfast City Hospital is set to open up one or two extra wards for older people to help ease pressures on emergency departments, the BBC understands.
GPs will be able to directly admit older people to the wards so they will not have to go through the emergency department system.
The plan is expected to come into effect by the end of October or beginning of November, ahead of increased demand during the winter months.
Northern Ireland's biggest accident and emergency department, the unit at the Royal Victoria Hospital, was under pressure on Monday night.
At teatime, the BBC understood 112 people were waiting in the emergency department. Five were waiting for almost 20 hours to be admitted.
The trust said it was an "exceptionally busy Monday".
Sources within the healthcare system have told the BBC it is now recognised emergency departments are becoming the "modern method of dispensing healthcare".
They said if care for older people is not available out in the community, then the elderly end up in hospital.
Staff told the BBC it is hoped the City Hospital plans will make a difference to the services and will avoid older people being left on trolleys in emergency departments.
The sources added with an ageing population, there were not enough beds for the number being admitted.
Department of Health targets say no patient should wait longer than 12 hours.
The BBC's health correspondent Marie-Louise Connolly said winter is expected to be the biggest test for all the health trusts, not just the Belfast Health Trust.