Spotlight on NI legal system's racist attack blind spot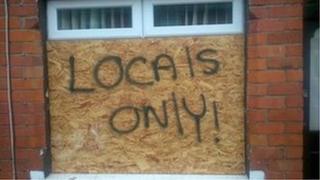 For many people of ethnic minority backgrounds in Northern Ireland, this has been a long, uncomfortable summer.
There has been a massive rise in racist attacks this summer - so much so that there have been more racial offences recorded by the police in the last five months than in the whole of the previous year.
Much of the rise seems to be driven by an increased number of attacks in Belfast.
BBC Northern Ireland's Spotlight programme has investigated and asked whether the many victims of the growing number of racist attacks are being let down by the criminal justice system in Northern Ireland.
"No matter how you look at these figures, they are deeply worrying," Assistant Chief Constable Will Kerr told the programme.
"There is a deep sense of intolerance throughout the city that has to be addressed."
'Easier to secure'
One way to address the issue is for the perpetrators of racist attacks to be convicted, and to receive longer sentences because of the racial element to the crime.
However, there seems to be a problem with the criminal justice system in Northern Ireland when it comes to racist attacks.
Joleena Flett of the Northern Ireland Council for Ethnic Minorities said: "We have had cases where people will be the victim of the racist crime… if it goes to the courts, it will often be prosecuted as maybe an assault, but without a racial element, because that conviction is easier to secure."
For victims of racist attacks, it is crucial that the criminal justice system sees an attack for what it is - motivated by racism.
So what is going on?
Partly, it comes down to legislation used in Northern Ireland to prosecute racist hate crimes.
Blind spot
In England and Wales, specific racially-aggravated offences were introduced in 1998. This means that a perpetrator can be prosecuted for a specific crime, such as racially-aggravated assault.
In Northern Ireland, the basic offence, such as assault, is prosecuted, and then it is up to the judge to add on an enhanced sentence for the racial element if the crime can be proved to be racist.
The trouble is, there are no figures available for when - or if - that happens, because the various agencies involved, including the Public Prosecution Service and the Courts Service, either have not properly collated them or have not published them.
This means there is a massive rise in racial offences entering the criminal justice system, and a blind spot at the other end in terms of whether anybody is ever given a longer prison sentence in Northern Ireland for a racial crime.
For many victims of racist attacks, this is simply not good enough.
The 1993 murder of Stephen Lawrence and the subsequent report by Sir William McPherson into the police handling of the killing led to sweeping reforms of the criminal justice system in England and Wales.
"That's precisely what should have been done here," says Dr Robbie McVeigh, who has written two major reports into race and the criminal justice system in Northern Ireland.
"It wasn't done. I would argue that we are still in pre-McPherson situation. We still haven't looked at McPherson and thought what we should do and change about criminal justice and race in Northern Ireland."
The Director of Public Prosecutions, Barra McGrory QC, said the Public Prosecution Service was doing all it can to meticulously record crimes with a racial element and bring them to court.
However, he pointed out that under the current system, "there is no easy opportunity to identify the race element in court".
"It's the law - it's the way it is framed - and certainly the policy-makers and law-makers on these issues may want to revisit this," he added.
Spotlight's investigation into racial attacks is broadcast on BBC Two Northern Ireland on Wednesday at 22:00 BST and will be available on the BBC iPlayer.