City Quays: Operator sought for waterfront hotel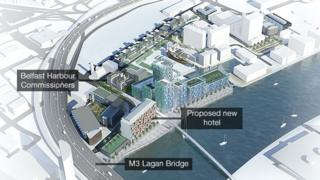 Belfast Harbour has advertised for an operator to run a new 150 to 200 bedroom hotel on the city's waterfront.
The hotel proposal is within the £250m City Quays development and could open by 2017.
In July, planning permission was granted for the development, including outline approval for the hotel project.
The operator would manage the hotel on a day-to-day basis, but it would be owned by Belfast Harbour.
"We are seeking expressions of interest to secure the expertise of an experienced hotel operator," said Graeme Johnston, Belfast Harbour's property director.
Regional Development Minister Danny Kennedy said demand for hotel space in Belfast was "strong and improving".
"The addition of this hotel further demonstrates Belfast Harbour's commitment to the continued revitalisation of this area of the city," he said.
City Quays is 20-acre site beside Clarendon Dock that includes offices that are already under construction.