Peter Robinson reshuffles DUP Stormont team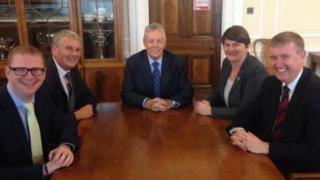 The DUP's Edwin Poots and Nelson McCausland are being replaced as Stormont ministers, party leader Peter Robinson has announced.
Jim Wells will replace Mr Poots as health minister, while Mervyn Storey will take over from Nelson McCausland as social development minister.
Mr Robinson first made the announcements on his Twitter account.
He later said the two ministers who were standing down had "done a tremendous job".
"As we lead up to elections, we wanted to settle things within the party, we wanted to put a fresh team in there, let new ideas flow through and give people an opportunity to show just what they can do," he said.
"In doing that, there isn't one of the ministers, committee chairs or deputy chairs who are being moved around that I wouldn't be prepared to reappoint in the future."
Mr Wells told the BBC the role of health minister was the "most challenging position in the executive".
He paid tribute to Mr Poots, saying he had "big boots to fill".
---
DUP reshuffle at a glance
Jim Wells will be the new minister for health, social services and public safety, replacing Edwin Poots
Mervyn Storey is the new social development minister, replacing Nelson McCausland
Mr McCausland will chair the culture, arts and leisure committee, replacing Michelle McIlveen
Ms McIlveen is new education committee chair, replacing Mr Storey
Trevor Clarke is chairman of the regional development committee, replacing Jimmy Spratt
Alastair Ross replaces Paul Givan as justice committee chair
Brenda Hale will take the place of Mr Ross on the Policing Board
Paula Bradley replaces Mr Wells as vice chair of the health committee
William Irwin will take over from Paul Frew as chair of the agriculture committee
---
Mr Wells said health budgets would be his "number one priority".
Last month, Mr Poots said the Department of Health was facing a major shortfall in funding, following the June monitoring round at Stormont, when departmental budgets were examined and reallocated.
He warned that he could not deliver £140m of savings.
Mr Poots said on Twitter that it had been a "huge privilege to have been health minister for 39 months".
"Best wishes to Jim Wells on a hugely challenging but rewarding job," he added.
Mr Storey had been chairman of Stormont's education committee since 2011, and was also a member of the committee on standards and privileges.
Among his new responsibilities, are housing, social security benefits, pensions, child support and urban regeneration.
Mr Storey said the issue of welfare reform, that has caused friction between the DUP and Sinn Féin in recent months, will be one of the biggest issues facing his department.
"I'm under no illusions as to the enormity of this challenge," he said.
"But, I believe, if people want to see progress, then they have to face up to the reality that there is an agreement that has to be reached on this issue so that Northern Ireland ensures that we can move forward and continue to be prosperous in the way that we have been to date."
Mr Robinson also announced that Mr Storey's role as chair of Stormont's education committee will be taken by Michelle McIlveen.
Trevor Clarke will replace Jimmy Spratt as chairman of the regional development committee, while Alastair Ross will take over from Paul Givan as chair of the justice committee.