Markets' residents hold protest over commuter parking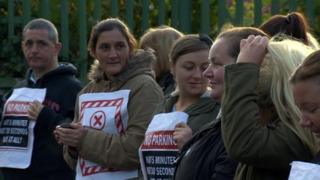 Residents in the Markets area of Belfast have started a protest against commuters parking in their area.
They blocked off three streets and prevented motorists parking there on Wednesday morning.
The residents said they are concerned for their children's safety because of the number of cars parking in the area.
They want further discussions with the Roads Service to get a system put in place to limit the number of cars parking on the streets.
BBC News NI reporter Claire Savage spoke to some residents.
"They want a system to be introduced - they suggested a hologram system on vehicles, some more single yellow lines and even a pay and display system - measures that will help alleviate the problem," she said.
"They have been turning back a lot of motorists, some of whom are not very happy about not being able to park
"They believe that the build up of cars, just simply isn't safe especially when when the kids are going to school in the morning. They also claim emergency services can't use the Markets as a thoroughfare to access emergencies."
Commuters parking in the Markets area has been an issue for residents for a number of years.
They said the problem had escalated because of the volume of cars that are now parking in the area, with cars now being parked two or three alongside each other.
As a result, they claim that on some parts of the street, only one vehicle can pass through at a time.