Children's cardiac surgery RVH move to Dublin 'would take time'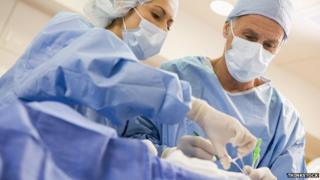 It would take "one to two years" for a Dublin hospital to build up capacity to take on the demands of children's cardiac surgery from Belfast, a senior paediatric cardiologist has said.
Outgoing Stormont health minister Edwin Poots said an expert review had found the service should move from the Royal Victoria Hospital to Dublin.
Dr Paul Oslizlok told the BBC he was not surprised by the findings.
He said a plan of action could not be put in place until it was published.
Publication of the US medical team's review is long overdue, and Mr Poots told the assembly on Tuesday that he hoped a further announcement could be made "over the course of the next month".
"One of the issues is that the Republic of Ireland have to develop more intensive care beds in their children's hospital - they are building a new children's hospital but the impact of transferring all the surgery to Dublin at this moment in time will put considerable pressures upon them, so they have work to do to appropriately respond to this," he said.
'Numbers game'
Dr Oslizlok, who works at Our Lady's Children's Hospital in Crumlin, said the recommendation to move the service would be "the only logical conclusion".
"It has been clear from international experience that the only way to guarantee excellent results is the numbers game - you have to be operating on a lot of babies every day to maintain good results," he said.
He said that while families who have been campaigning to retain the Belfast service were "justly proud" of it, the "alternative was to send children from Northern Ireland to mainland UK".
"That would have involved a lot of extra risk for those babies in transporting them, as well as the upheaval for their families at a very difficult time in their lives," he said.
Dr Oslizlok said that while the decision to base the service in Dublin had been expected for a number of years, they had to wait on the health ministers in both jurisdictions to make their decision before putting plans in place.
"Currently, if we were to be told today that we have to operate on all those children from Northern Ireland, no we don't have the capacity," he said.
"Realistically, it would take between one and two years to ramp up all the services to meet demand.
"There would be little point in building up resources when we aren't sure what the outcome will be."