Former DUP adviser David McConaghie charged with voyeurism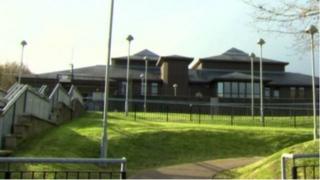 A former church minister and adviser to a DUP MP has appeared in court charged with voyeurism.
David McConaghie appeared at Craigavon Magistrates' Court in connection with the discovery of equipment in the constituency office of Upper Bann MP David Simpson in Portadown two years ago.
It is understood a camera was found in the toilet.
Mr McConaghie, 49, said he understood the charge against him.
He is charged with one count of voyeurism on dates between 1 January 2012 and 12 September 2012 in that he allegedly "installed equipment, or constructed or adapted a structure or part of a structure with the intention of enabling yourself or another person to observe, for the purpose of obtaining sexual gratification, a third person doing a private act, knowing that the third person did not consent to being observed for that purpose."
A police officer told the court he knew the facts of the case and said he believed that he could connect Mr McConaghie, from Cottage Hill, Dollingstown, to the charge.
A prosecution lawyer asked that given the charge, if the Public Prosecution Service (PPS) could be allowed eight weeks "to prepare a full file" and as Mr McConaghie's solicitor had no objection to that, the adjournment was granted by the judge.
Mr McConaghie was released on his own bail of £500 and barred from contacting any staff member at the DUP advice office in Portadown and from owning or possessing any mobile phone or other device "capable of making video recordings".