Derry's peregrine falcon dies in 'suspected poisoning'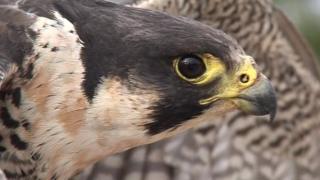 A protected bird of prey that became a "tourist attraction" in Londonderry may have been poisoned, police have said.
They are investigating after a peregrine falcon was found dead in the grounds of St Columb's Cathedral.
The bird was a regular feature at the church, with parishioners reporting falcon sightings every year for approximately five years.
The PSNI's area commander for Foyle said peregrine falcons were a protected species and appealed for information.
Ch Insp Tony Callaghan said: "This particular falcon was well known to the local community and had become a tourist attraction.
Tests
"Parishioners and local people who liked to watch the falcon are understandably very upset by what has happened."
The bird was found dead on Saturday and was taken away by police who are trying to establish if it had been poisoned.
Daphne Gallick, a tour guide with St Columb's, said the falcon had become "part of the furniture for quite a number of years".
She said although he never came into close contact with cathedral staff, they had been happy to just have him there.
"We would sometimes see the remains of his breakfast around the front door and his mess," she said.
'Missed'
"He was inter-denominational as he spent time at St Eugene's Cathedral too.
"He was always a talking point, so he will be missed by all of us."
Peregrine falcons are one of the fastest animals in the world and can achieve speeds of over 186 mph (300 kph) when swooping down to capture prey.
They usually found in open landscapes, but are increasingly inhabiting urban areas, where they can nest in tall buildings and where pigeons provide a plentiful food source.