Maghaberry Prison: Document outlines dissident republican demands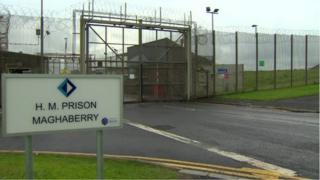 Tensions and disputes between republican prisoners and the prison authorities are nothing new.
There are currently about 50 dissident republicans being held in Maghaberry prison near Lisburn, County Antrim.
The majority of them, 31, are aligned to the group referred to as the New IRA.
The group has accused the Northern Ireland Prison Service of breaking the terms of an agreement to relax security, and have sent the authorities a document containing a wide range of proposed changes.
The BBC has obtained a copy of the 14-page paper, called a conditions document.
In a section dealing with security issues, the document says there should be:
no restriction on movement of prisoners within their wing
an end to day and night time lock-ups
an end to strip searching
The document also calls for an overhaul of arrangements for family visits.
These include:
a new cubicle layout to maximise privacy
an end to the fingerprinting and photographing of children
a play park, complete with swings and slides
space to hold activities marking special occasions, and to take family photographs
fewer searches and less use of drug detection dogs, which the document says are an unnecessary measure.
The document has angered Democratic Unionist Party MLA Paul Givan, who raised the issue with Northern Ireland Justice Minister David Ford, before it was announced that he is to be replaced as chairman of the justice committee.
The Lagan Valley MLA has spoken to several prison officers, and said they have raised serious concerns about the proposals.
A number of the prisoners were formerly members of the Provisional IRA and served periods of time in the Maze prison, where paramilitary groups effectively ran their own wings.
'Worst criminals'
Mr Givan said he believes dissidents in Maghaberry are trying to establish an even greater level of control.
"What the republican prisoners clearly want is not just a return to what it was like in the Maze where they had a lot of freedom, they want more than the Maze," he said.
"This actually would have very serious consequences for security. We are dealing with some of the worst criminals in Northern Ireland, and people who need very strict supervision.
"These proposals that republicans are after would remove any presence of security staff on their landings, and avoid them ever being locked up at any point within the facilities.
"These are very real concerns that the staff are relaying to me and I've already met with the justice minister and made it explicitly clear to him that these concessions should not be made to republican terrorists," Mr Givan added.
I visited Maghaberry and spent an hour speaking to a spokesman for the dissident group.
Veteran republican Harry Fitzsimons served two prison terms as a member of the Provisional IRA.
He is currently on remand with two other prominent dissidents, including Lurgan republican Colin Duffy, charged with attempting to murder members of the security forces.
'Too restrictive'
Harry Fitzsimons told me the conditions document is not a threat or an ultimatum, but an attempt to reduce tensions and conflict between prisoners and staff.
He quoted from a number of inspection reports. Those reports described the controls on movement within the dissident wing as too restrictive.
As far as the prisoners are concerned, he said their view is that the system is not about security, but lowering their morale.
"This is about trying to criminalise republican prisoners," Fitzsimons said.
"There is no justification whatsoever for any restriction in our movement within our community space. We are not asking for anything that is unreasonable.
"The Prisoner Ombudsman and other inspectors have said the security measures we have to endure are too restrictive, but the prison authorities have yet to respond to those criticisms.
"There is also no excuse for the lack of privacy for family visits. There are prison officers present and security cameras in the room, and all visitors are thoroughly searched, so there is no reason why we should not be given a little more privacy."
Sources close to the Prison Officers Association described claims that security measures in the dissident republican wing are excessively restrictive as nonsense.
They said those held in the dissident wing are highly dangerous, and that controls on movement are essential.
'Fear'
They point to the murder of prison officer David Black, shot dead as in drove to work in Maghaberry in November 2012, as evidence of a campaign of threats and intimidation against their members.
"A number of other prison officers have also had to move home as a result of threats," said a source.
"Part of the 2010 agreement dissident republicans want implemented was that prison staff should be able to go about their duties without fear of threats or intimidation, and that has not happened."
In a statement, the Northern Ireland Prison Service said senior staff talk to prisoners on a regular basis to discuss a range of issues.
It said a review of the implementation of the agreement reached in August 2010 is currently being carried out, and that a report is expected at the end of this month.