Ioan Lacatus refused bail in 'slavery' investigation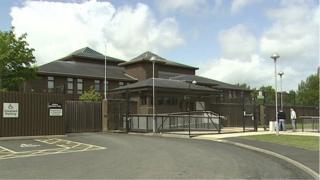 A man arrested when police rescued 20 people "from slavery" in County Armagh last month has been refused bail due to fears he would flee Northern Ireland.
Ioan Lacatus, originally from Romania but with an address at Hanover Street, Portadown, County Armagh, faces human trafficking and forced labour charges.
He is also charged with acting as an unlicensed gang-master.
The alleged victims, all Romanian, were found at two locations during a labour exploitation investigation.
A detective constable told Craigavon Magistrates Court how officers "identified and rescued from slavery" a total of 20 people during last month's operation.
'Passports taken'
The court heard that in addition to these allegedly trafficked victims, there are a further 20 Romanians living at Mr Lacatus' Portadown home -who may be victims as well.
Police objected to the 31-year-old defendant's bail application, citing fears that he would reoffend, flee the jurisdiction and interfere with witnesses.
The court heard claims that the families of the 20 "rescued" Romanians have already been told to order their relatives here to "withdraw their statements".
Mr Lacatus' co-accused, fellow Romanian Samuil Covaci, who is 23 with an address at Charles Street in Portadown, is also in custody on the same alleged crimes, which are said to have been committed on dates between 31 May and 15 August this year.
The detective constable described how the alleged victims had been bussed from Romania to Dublin, where their passports and identity cards were taken off them.
They were then brought to the address at Charles Street, Portadown, before being put to work in a local factory.
'Debt bondage'
The officer said the police evidence would suggest that Mr Lacatus gave the alleged victims a cheque for 500 euros (£390) every month but that when they cashed it, the money was "taken off them by the defendant".
The detective constable described the workers' situation as "being held in debt bondage."
The alleged victims, he told the court, were all working under a recruitment agency but were unaware that their pay was in fact "being transferred into the defendant's bank account".
When police raided Mr Lacatus' home, "there was evidence being burned on the fire," the detective said.
'Claiming benefits'
The court head that since the raid, orders to retrieve the defendant's bank account transactions have been sought by detectives, that would indicate "thousands of pounds" being moved through them each month.
The detective constable said that despite being registered as unemployed, claiming benefits "of over £10,000 per year," his investigation would indicate that Mr Lacatus "works allegedly as a taxi driver, for which he isn't licensed to work".
"The defendant doesn't see anything wrong in what he is doing in any shape or form," said the officer, adding that during police interviews, Mr Lacatus gave answers "like shifting sands depending on what was being put to him".
'Sacked'
A defence lawyer suggested that the defendant could meet strict bail conditions, by surrendering his passport, reporting twice to daily to police and being electronically tagged.
The lawyer said his client claimed those who have accused him of the offences had been sacked from the factory and bore him "ill will".
However, the judge said he shared police fears and refused the bail application.
Mr Lacatus is charged with 12 human trafficking offences, 12 forced labour offences and a single charge of acting as an unlicensed gang-master
He is due before the court again, alongside his co-accused, via videolink, on 24 October.