UKIP MLA David McNarry says membership growing in Northern Ireland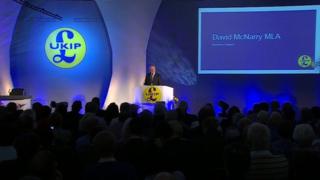 The UK Independence Party (UKIP) MLA David McNarry has told the party's annual conference that membership is growing in Northern Ireland.
He made his comments during a speech in Doncaster on Saturday,
Mr McNarry told delegates the three main UK party leaders were "absentee landlords" in Northern Ireland.
"As far as Cameron, Miliband and Clegg are concerned not one of them have political representation in Northern Ireland," he said.
"They don't even visit us, but Nigel does," he added.
"He has me in Stormont, four councillors in local government now and from a standing start 25,000 votes in the European election which we never had before.
"Not one of them have a mandate in Northern Ireland. We are growing every day, and we are the only truly national party."
'Political correctness'
Mr McNarry said UKIP were connecting and putting to shame those old parties that were "out of touch" and "desperately hanging onto power".
"Tepid Tories and lacklustre Lib-Dems see governance as a form of over-loaded social engineering and political correctness," he told delegates.
"They don't get it - they never have - they never will."
He said what people were "desperately" seeking was a party to vote for which embraced the "collective similarities" of the four home nations as a whole and demonstrated fair and equitable polices for all.
Mr McNarry, who was previously a member of the Ulster Unionist Party (UUP), joined UKIP in October 2012.
The move came months after he had been formally expelled from the UUP.