Viable pipe bomb found during alert in Newtownabbey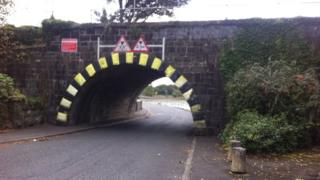 A viable pipe bomb device has been seized by police during a security alert in Newtownabbey, County Antrim.
A number of people had to leave their homes after police received a telephone call at 20:50 BST on Saturday to say a device had been left in the area.
It was located under a railway bridge at Whitehouse Park and examined by Army bomb experts.
Residents were allowed to return to their homes at about 00:45 BST on Sunday.
Those responsible were condemned by the mayor of Newtownabbey Thomas Hogg.
"This has caused very significant disruption to a large number of families in that area, a number of very elderly individuals and a number of severely disabled individuals displaced from their homes on a Saturday evening until the early hours of the morning," he said.
"It's absolutely appalling and those responsible have no place in any sort of civilised society."