Prince Charles praises bravery of police in Northern Ireland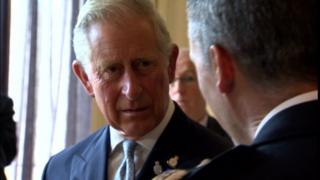 The Prince of Wales has paid tribute to the bravery of police officers who have died in the line of duty in Northern Ireland.
Prince Charles noted the "enormous sacrifices" made by officers as he attended the National Police Memorial Day event in Belfast.
A total of 303 officers died there in the line of duty between 1966 and 1998.
Home Secretary Theresa May also attended the event at the Waterfront Hall.
The prince told the annual remembrance event, which is held in a different venue each year: "We are drawn together from across the UK to demonstrate our deep respect for these brave men and women. They will never be forgotten and through us, their exceptional legacy will always be remembered."
He added: "We owe them an immense debt of gratitude."
Northern Ireland Justice Minister David Ford said police officers did not always get the credit they deserved.
"I think that police officers are just seen as a normal part of society, along with people who provide other public services," he said.
"But on a day like today you remember the challenges that face police officers, you remember the difficulties and the dangers they put themselves through every day of their shifts
"That applies in every part of the UK, but is obviously particularly acute in Northern Ireland."
'Ultimate sacrifice'
Sgt Joe Holness, who founded the commemoration, said it was a special day to remember those that have died.
"It is a day that is as profound now as it was 11 years ago when this event first started," he said.
"It brings together police forces, officers, colleagues, friends and family from across the country to remember and give recognition to those that have made the ultimate sacrifice protecting us."
The event was inaugurated by Sgt Holness after his colleague was killed on duty.
The inaugural service was held at St Paul's Cathedral on Sunday October 3 2004.
---
Mark Simpson at the Waterfront Hall
The cross-community service in the heart of Belfast emphasised how much the city had changed and how deeply the city had suffered in the past.
The Prince of Wales has been to Belfast before but, for the first time, exact details of his visit were made public in advance. It was a clear sign of how the security situation has improved.
However, there was no disguising the hurt caused by 30 years of violence. Many relatives of police officers who died in the Troubles wept openly at the service.
They sat together with families of officers killed across the UK.
For everyone who was there, it was a chance to reflect on the past, amid the hope of a better future.
---
"Police officers go to work every day knowing that they could find themselves in danger, and sometimes they risk their very lives as they protect the public," said Mrs May.
"We owe a debt of gratitude to officers across the country who show bravery as a matter of course and in many cases while they are off duty."
Steve White, chairman of the Police Federation of England and Wales, said it was a poignant and significant day for the policing family as officers throughout the UK gather to pay tribute to fallen colleagues.
"Their dedication to duty and self-sacrifice will never be forgotten," he said.