Carnagh Orange hall attack: Dissident republicans admit placing device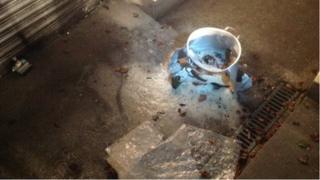 Dissident republicans have claimed responsibility for a device that partially exploded outside an Orange hall in County Armagh on Friday.
In a phone call to the Irish News, a group calling itself The Irish Volunteers admitted it placed the device at Carnagh Orange hall in Keady.
The security operation that began following the explosion ended earlier.
Police said a partially exploded device had been taken away for examination.
A saucepan, thought to contain homemade explosive material, was left at the door of the Orange hall on the Castleblaney Road.
A shutter was damaged when the device partially exploded at the hall.
PSNI Ch Insp Ian Campbell said: "We are in contact with members of the lodge and local representatives in relation to this incident.
"The reality of policing in Northern Ireland is that there is a significant ongoing threat from terrorists who have shown they are determined to kill police officers.
"As a consequence, our response to each incident is guided by what best protects both the public and our police officers, and causes least disruption to the community."
Trevor Geary, a senior Orangeman at Carnagh Orange hall, said he understood why police had to be cautious.
"The actual incident wasn't known about until Friday evening and I can understand, with all the woodland in the neighbourhood and all the culverts, all this has to be checked out before people can commit, committing other lives to possible danger," he said.
'Cross-community'
On Saturday, Mr Geary said the hall had been damaged by pipe bomb and arson attacks several times during the Troubles, but this was the first attack since 2007.
He added that the lodge's members had been involved in cross-community work for the last number of years and had raised thousands of pounds for charity.
The Orange Order's grand master Edward Stevenson has condemned what he called the "moronic actions of those behind the bomb attack at Carnagh Orange hall".
Both unionist and republican politicians have condemned the attack.