Stormont Executive facing legal action over anti-poverty strategy 'failure'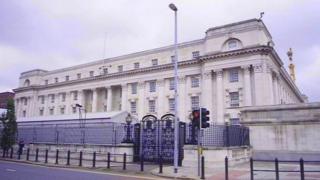 The Stormont Executive is facing legal action over an alleged failure to develop an anti-poverty strategy for Northern Ireland.
The Committee on the Administration of Justice (CAJ) has claimed no proper blueprint has been adopted for dealing with deprivation.
The body was granted leave to seek a judicial review following a hearing at the High Court in Belfast.
A full hearing is expected later in the year.
Speaking after the hearing, CAJ director Brian Gormally said: "Stormont cannot simply overlook a key legal duty introduced as part of an international agreement which forms part of the peace process.
"It is particularly important that there is a strategy to alleviate poverty and ensure resources are targeted at those most in objective need in times when budget cuts are being imposed from London and there is the spectre of so-called welfare reform impacting on the most vulnerable in our society."
Obligation
During the brief hearing, the CAJ argued that the executive had a legal duty to introduce a strategy to tackle poverty.
The committee's lawyers said this requirement was a key element of the 2006 St Andrews Agreement, which led to the restoration of the power-sharing assembly.
In legal papers, the CAJ argued that the Northern Ireland Act 2006 included an obligation for the executive "to adopt a strategy setting out how it proposes to tackle poverty, social exclusion and patterns of deprivation based on objective need".
The CAJ said that before devolution was restored to Stormont, the British government had developed an anti-poverty strategy called Lifetime Opportunities.
However, the committee said that the Stormont administration failed to take up this plan and had not formed its own strategy.