Ex Ulster Bank director Kevin Craig to manage £1bn NI loan sold by Nama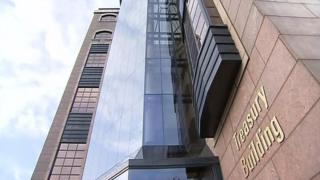 A former Ulster Bank executive has been appointed to manage the £1bn Northern Ireland property loan portfolio that was sold by Nama, the Republic of Ireland's state-controlled "bad bank".
Nama sold the loans to New York-based Cerberus Capital Management earlier this year.
Cerberus has appointed Kevin Craig as a vice president in its European division.
Mr Craig is a former director of corporate banking at Ulster Bank.
He also had a senior role in the bank's controversial global restructuring group, its internal "bad bank".
The Cerberus loans are secured on around 1,000 properties, including office blocks, shopping developments, hotels and development land.
Cerberus completed the deal in June and has begun the process of engaging with borrowers.
Industry observers expect the firm to move rapidly to direct the sale of individual assets.