Northern Ireland enjoys driest September since records began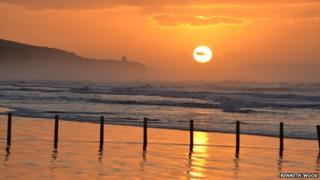 This September looks set to go down in history as the driest September since records began 104 years ago.
Early figures - which do not include the 29th or 30th - show that just 6.5mm of rain fell.
That is just 7% of what we expect to see during the ninth month of the year. The previous record was set in 1986 when just 9.7mm of rain fell.
It follows a very wet August when Northern Ireland had more than 115% of normal rainfall for the month.
Statistics also show that the mean temperature was up by 1C at 13.4C, with about normal sunshine amounts - 118 hours or 104% of the average.
September 2006 holds the record for the warmest September on record at 14.2C.
The record for the amount of sunshine goes to September 1991 when Northern Ireland basked in 164.4 hours of sun.