Ulster Bank boost 'down to rising house prices'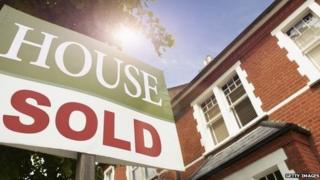 Ulster Bank has said rising house prices contributed to a £300m improvement in its loan book in the third quarter of 2014.
The bank said the money which had been set aside to cover expected losses will now be freed up for other purposes.
It added that "the potential exists for further releases" if market conditions improve further.
House prices across Ireland are rising, particularly in Dublin which has seen a rise of 25% in the last year.
About 45% of Ulster Bank's Republic of Ireland mortgage business is in Dublin.
Ulster Bank is the largest bank in Northern Ireland and the third biggest in the Republic.
Meanwhile, the Irish Times has reported that the bank is expected to commit itself to continue operating in the Republic when it publishes its third quarter results at the end of October.
The bank's parent company, RBS, has been reviewing Ulster Bank's operations.
The Northern Ireland part of the bank has already become more closely aligned with RBS UK.
However, the future of the bank in the Republic of Ireland had been more uncertain.
There was speculation that the bank was seeking to merge its Dublin-based business with a lender such as Permanent TSB.
There had also been reports that RBS approached private equity firms to invest in such a merger.
The Irish Times report says a recommendation will be made shortly to the RBS executive committee that it should retain full ownership of Ulster Bank.
It will also recommend that RBS commit resources to grow the business and become a challenger to AIB and Bank of Ireland.