John O'Dowd: Plans to fast track single education board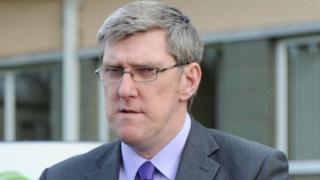 The education minister has told the education committee he wants to fast track legislation for a new single education board.
John O'Dowd told MLAs he wanted to bypass the usual committee stage to save time.
It would mean the board could be in place by 1 April next year.
"Accelerated passage" would allow the assembly to begin commenting on the bill or proposing amendments from next Monday 6 October.
A final reading would be on 17 November.
The bill is a substitute for the Education and Skills Authority (ESA) that failed to win cross-party support.
Earlier this month, Mr O'Dowd secured support from the education committee to replace ESA with a single board.
'Significant changes'
The minister said the new body would still save money, an estimated £185m over 10 years, but he said he still favoured the eventual creation of ESA.
He told the committee there were only two significant changes from the current situation: one is the method for appointing teachers in controlled schools and the other is the chair and membership of a new board.
Currently four out of five education and library boards are governed by 60 members, while the proposed new single authority would have only 20 members representing educationalists, politicians and the community.
The new authority is likely to have 2,600 staff, not including teaching staff.
More than 400 posts have already been lost through voluntary redundancy and there may be more under a new authority.
The committee was told it did not have the power to stop "accelerated passage", that decision would be up to the full assembly.