Simon Hamilton to commission research into impact of welfare reform deadlock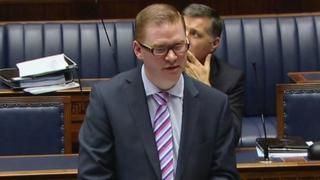 The finance minister will commission independent research on the economic impact of the assembly's failure to implement welfare reform in line with the rest of the UK.
Researchers have been asked to tender for the work by Friday, with a view to starting their analysis next week.
Whoever is awarded the contract will be required to provide a final report within one month of their appointment.
NI faces penalties for not endorsing welfare reforms passed by Westminster.
On Monday, it was reported that the head of the Northern Ireland civil service was to warn the Treasury that the Northern Ireland Executive's finances may go into the red.
Mr Hamilton has commissioned this report after a recent meeting of the Stormont finance committee at which members complained about the lack of a precise cost for the impact of welfare reform.
He said it would be "a genuine attempt to try to hollow out all the issues around how many people will be better off, how many people will be worse off, to what extent they will be worse off, what we can do about them being worse off, what the costs of IT will be and what the costs will be of taking on the current system and developing a new system".