David McNarry calls for referendum on inter-party talks outcome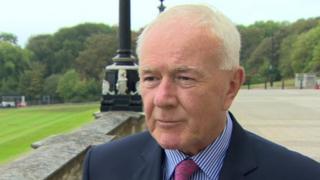 Northern Ireland's only UKIP MLA has called for a referendum on any outcome from upcoming inter-party talks.
On Sunday, the Northern Ireland secretary of state announced she would convene the talks to try and solve outstanding political issues including, flags, parades and the past.
She said both the British and Irish governments would be involved.
UKIP's David McNarry said the conclusion of any talks should be voted on by the people of Northern Ireland.
"If they can agree on the issues, put them to the people and let's for once in our politics in Northern Ireland have the people telling the politicians what they want and the politicians follow," he said.
Mr McNarry added that the Scottish referendum had set a "good precedent" for Northern Ireland to follow.
"UKIP have always wanted to have matters resolved by referendum.
"The major issues that we're talking about, let the people decide. Put it to the people what they want to keep in. Give them a choice."
He also said that Secretary of State Theresa Villiers had not invited UKIP to the inter-party talks.