Man accused of 'plot to kill police' cleared of charges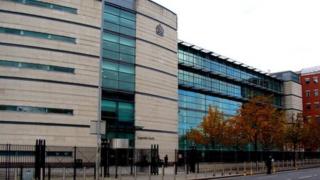 A County Armagh man, who went on trial on Monday accused of involvement in a mortar bomb plot seven years ago, has been cleared of all charges.
Ryan McKenna, 25, of Lurgantarry, Lurgan, was not in court to hear the prosecution offer no further evidence.
As a result, the judge ordered Mr McKenna to be acquitted.
Mr McKenna had denied conspiracy to cause explosions, possession of explosives with intent to endanger life or damage property.
He also denied possession of explosives under suspicious circumstances between 28 March 2007 and 6 April 2007.
Mr McKenna's solicitor said they would now be issuing civil proceedings for damages.
Not guilty
Following the decision by the prosecution to offer no further evidence, Mr McKenna's defence lawyer acknowledged the "urgency of the matter" in having the hearing in his client's absence.
He then asked for a formal finding of not guilty to be lodged on each of the three charges.
The lawyer later confirmed that Mr McKenna would be released directly from prison, once the findings of the court had been relayed to the authorities.
The prosecution lawyer explained that while Mr McKenna was in custody, the decision had been made "to offer no further evidence in the case, and invite your honour to find the accused not guilty".