Indian 'healer' charged with schoolgirl sex offences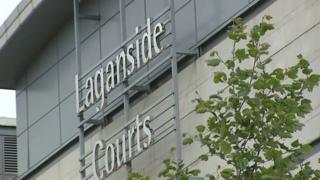 The father of a schoolgirl who claims she was sexually assaulted by an Indian 'healer' told a jury he was "angry" at both himself and his wife for being "gullible" and trusting the "holy man".
The girl's father gave evidence at the trial of Charanjit, at Belfast Crown Court on Wednesday.
Charanjit, 46, from Twinburn Gardens in Newtownabbey, denied all eight charges - including two counts of rape.
The girl was aged 12 when she said she was allegedly abused by Charanjit.
She claimed two of the incidents occurred when she was went to him seeking treatment for a stomach complaint.
The girl's father said that when her daughter was initially seen by Charanjit at a house in Belfast, the defendant convinced her family that she was suffering from "something serious" but that in hindsight he now released the pains in her stomach was linked to her "coming up to her puberty".
'Healing'
The jury has already heard evidence that the girl spent over half an hour on two separate occasions in a bedroom with Charanjit. When the girl's father was asked where he was when his daughter was in the bedroom with Charanjit, he said he was downstairs.
The man told the court that when Charanjit was healing someone, he always ordered everyone else to leave the "healing room" as he needed to be alone with the person he was "fixing".
The girl's father said Charanjit made the case that he needed to be alone with the person he was treating, otherwise the bad vibes or karma from the healing would be transferred to anyone else who was in the room.
'Gullible'
The father said: "Guillible as it seems now, we actually believed that. It's sad to say that now."
He was also asked about the evening he found out about the allegations his daughter had made against Charanjit.
The girl's father told the court "that date will forever be etched in my mind", the man said he was angry at both himself and his wife "for being so stupid".
He also said he asked himself "how could we not see this coming?"
The Crown said the charges were committed over a period from 30 September 2012 to 2 February 203.