Marion Millican killing: Husband tells of cradling wife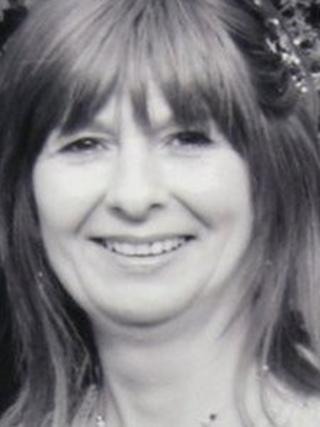 The estranged husband of a woman shot dead in a laundrette has told a jury of the moment he cradled her in his arms to see if she was still alive.
Kenneth Millican was giving evidence at the trial of his wife's former lover, Fred McClenaghan 52, of Broad Street, Magherafelt.
Mr McClenaghan denies murdering the mother of four.
Ms Millican, 51, was shot at the laundrette in Portstewart where she worked in March 2011.
Mr Millican, who also told Antrim Crown Court, sitting in Belfast of the couple's plans to patch up their marriage, said that he got a phone call around 1.30pm the day of the killing from Pamela Henry, who worked with her in the launderette.
He told the jury: "Pamela was very hysterical, crying and shouting. She said to me: 'Ken, Ken get down here. Freddie's got a gun and he's going to shoot Marion'."
"I said to her: 'Ring the police and I would be straight down".
Mr Millican said he followed closely behind a police car as it travelled at speed to the seaside town.
"I went into the launderette and saw Marion lying directly in front of me, half-way down. I thought she was unconscious and I tried to feel her pulse. There was no pulse," he said.
"I put her head in my arms and brought her lips up to my cheek to see if I could feel her breathing, but I couldn't feel her breath on my cheek."
Earlier, he told a prosecution lawyer that after 35 years of marriage, they began to have problems, and that Marion eventually moved out of the family home in 2009 following an "amicable split".
In late 2009 he discovered she was in a relationship with Mr McClenaghan.
However, he said late the following year it had ended and they decided to "give our marriage another go".
Mr Millican said that while estranged from his wife, he had noticed a change in her. He also told the court he subsequently learned that Mr McClenaghan had beaten her, once knocking her unconscious.
On another occasion, he claimed Mr McClenaghan had attempted to strangle her, telling her: "You belong to me now and nobody else."
Threatening phone calls
Under cross-examination by a defence QC, he confirmed he was also aware that his ex-wife was attacked by an unnamed assailant, not once, but twice, and that the windows of her home were smashed.
However, he said he was unaware that she had receiving threatening phone calls.
Mrs Millican's employer Sandra Moss told the jury about talking to Mrs Millican in the launderette in the run up to Christmas 2010.
"I asked her how her weekend had gone and she said she didn't have a great weekend. She was wearing a polo neck jumper and she pulled it down. I was shocked.
Mrs Moss said Marion's neck was very badly bruised and it "looked as if she had been strangled.... and said that Freddie had done that to her, and that she would never see Freddie again.
"I was delighted when she told me that".
The trial continues.