Prostate cancer: Northern Ireland 'has gaps in services'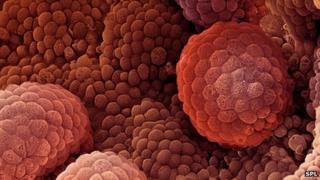 Politicians are being urged to address "critical gaps" in support services for men with prostate cancer.
A charity for the disease said there were no support services in Northern Ireland tailored to help men deal with some of the side effects of treatments.
Prostate Cancer UK will be briefing politicians at Stormont on Thursday.
It said treatments for the disease can bring life-changing side effects, including erectile dysfunction and incontinence.
The charity said there was fewer than half the number of specialist prostate cancer nurses than there are for those with breast cancer.
The briefing will also be attended by people affected by prostate cancer and individuals representing health and social care bodies from across Northern Ireland.
Prostate cancer is the most common cancer in men in Northern Ireland.