Blue badge U-turn: One-armed driver gets apology over disability parking permit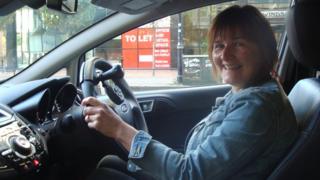 Northern Ireland's roads minister has apologised to a one-armed driver who was denied a disability parking permit.
Lisa Schofield, from Ballywalter, County Down, applied for a permit under the Blue Badge Parking Scheme but her request was refused.
Ms Schofield claimed her application had been turned down because she was not considered to be "disabled enough".
Roads Minister Danny Kennedy ordered an "immediate review" of her case and in a U-turn, she has been granted a permit.
The UK-wide parking scheme was set up to make it easier for people with severe mobility problems to access services, including shops and other amenities, by allowing them to park close to their destination.
Ms Schofield, who was born with one arm missing, requested a permit because the health of her existing arm had deteriorated, and she struggled to carry anything heavier than a pint of milk.
"I applied for a blue badge because of the whole lifting and carrying and yet I was turned down because I can walk," she told the BBC's Good Morning Ulster programme on Wednesday.
"If you have only one arm, apparently you're not disabled enough," she added.
In Northern Ireland, the Blue Badge Parking Scheme is administered by Transport NI, a business unit within Mr Kennedy's Department for Regional Development (DRD).
Qualifying criteria
The DRD initially declined to comment on Ms Schofield's case, but after Wednesday's broadcast, the minister released a statement announcing the U-turn on her application.
Mr Kennedy said: "On hearing about Lisa Schofield's case, I asked for an immediate internal review. As a result of this review, I am very pleased to say her application has now been accepted.
"I want to apologise on behalf of the department that Ms Schofield did not receive her blue badge at the first stage of her application. I very much hope that Lisa will benefit greatly from using her blue badge and I wish her well," the minister added.
It is understood that her initial application was turned down because there was an issue with the covering letter she had attached to the form.
'Huge relief'
Ms Schofield said she had written the letter because the nature of questions on the blue badge application meant she could not fully explain the extent of her disability and wanted to clarify the issue.
After the decision was reversed, Ms Schofield said it was a huge relief and the new parking permit would make her daily life so much easier.
She also said she hoped her case would result in a review of the scheme's qualifying criteria, so that other disabled drivers will not have to go through the disappointment and stress of being turned down.
In his statement, Mr Kennedy said: "It is important to remind all people that there is an appeal system in place for those who are refused a blue badge in the first instance."