Stormont ministers attend north-south council meeting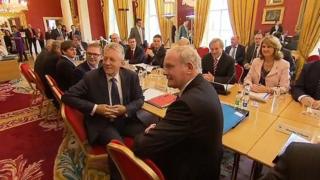 Ministers from the Stormont Executive have been meeting their counterparts from the Irish government at a north-south ministerial council meeting.
Taoiseach Enda Kenny said he expected there would be a "detailed and open discussion on the financial and economic challenges facing both jurisdictions".
The Irish government is expected to play a role in inter-party talks.
They are due to get under way in the middle of this month.
On Thursday night, the Secretary of State Theresa Villiers had a series of meetings with the local parties to discuss the agenda for the talks which are expected to cover budgetary matters, reforming Stormont, and the outstanding issues of flags, parades and the past.
Stormont faces a shortfall of more than £200m in its budget for the current financial year, which ends in April.
This consists of just under £90m in fines imposed by the Treasury due to the executive's failure to implement welfare reforms introduced elsewhere in the UK and more than £100m in other inescapable pressures.
The Northern Ireland Executive's financial pressures are estimated to be increasing at a rate of £5m per week.
While DUP ministers said they believe the budget shortfall must be addressed urgently in order to avoid breaching Treasury spending limits, Sinn Féin ministers have continued to resist paying any Treasury fines.
Their party has argued that the welfare changes should be subject to further negotiation with Westminster.
The Treasury was also formally warned this week that the Northern Ireland Executive was on track to go into the red by the end of this financial year.
The Treasury was contacted by the head of the Northern Ireland Civil Service.
It comes as executive ministers have proved unable to resolve the deadlock over welfare reform and other financial pressures.
Stormont ministers are expected to meet again next week to discuss the budgetary crisis, but there is no immediate sign of a way forward acceptable to both the DUP and Sinn Féin.