Police Federation Chair Terry Spence retire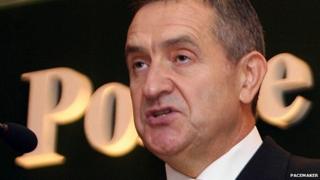 The chairman of the Police Federation is retiring from his job.
Terry Spence has been in the post for almost nine years.
The Police Federation is similar to a union, but without the right to resort to industrial action.
Earlier this week, Terry Spence said cuts to the policing budget were a "disaster" for police funding.
The PSNI is facing a 7% cut of this financial year's budget, about £50m.
Mr Spence said it has been a huge privilege to have served alongside "dedicated and brave colleagues" in many difficult areas across Northern Ireland.
"It has also been an honour to have served as a trustee of our Benevolent Fund and the UK police national charity, the Police Dependents' Trust.
'Honour'
"My chairmanship of these charities and my seat on the NI Police Fund and the Police Rehabilitation and Retraining Trust, has allowed me to see at first hand the plight and suffering of police officers and, in particular, the families of those whose loved ones have been killed or injured in the execution of their duty.
"Their courage in the face of adversity is nothing short of remarkable and something I will never forget.
"I would ask my colleagues to support my successor in all matters concerning the welfare and efficiency of our members, which is at the heart of our remit and so essential to the well-being of the wider police family."
Mr Spence said it would be "business as usual" until his successor was elected in February 2015.
He completed nearly 40 years of service in policing.