Casement Park: £2m work would be wasted, Belfast court told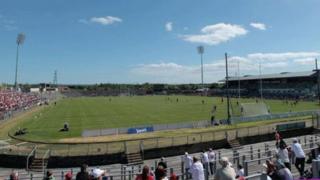 Halting the Casement Park GAA stadium redevelopment would mean more than £2m of preliminary work "going up in smoke", the High Court has heard.
Counsel for the GAA also said its aim of having an iconic Northern Ireland venue would be thwarted if a legal bid to block the project succeeds.
A residents' group wants a decision by the environment minister to approve a 38,000-seater stadium to be quashed.
They claim the west Belfast stadium would be too big for the area.
It would dwarf surrounding homes, block out light and compound traffic congestion, the group claims.
However, the judge has been told that more than £60m of Stormont funding for the scheme would go elsewhere if a judicial review is granted.
Counsel for the GAA set out how the body had been seeking facilities in Ulster capable of hosting major fixtures for more than a decade.
"If the development is not in a position to proceed, that clearly has very significant consequences for the ability of the GAA to meet its strategic objective to put in place a sizeable regional stadium, and more particularly within Northern Ireland, to provide any stadium sufficiently large with appropriate facilities in the modern era," he said.
Pre-construction work carried out by the contractor was already well under way by the time Mooreland and Owenvarragh Residents Association launched its legal challenge, the court heard.
According to the counsel, the bill for what was completed by early April totals £2.3m.
Since then a six-month delay in starting the main construction had incurred a further £490,000 in costs, he said.
The barrister contended: "It's worse than just losing a stadium and all the consequences of that, it actually has a cost attached to it of at least £2m or more.
"If the development does not proceed, these monies are going up in smoke."
The proposed new GAA stadium is set to cost £77m, with the Department of Culture, Arts and Leisure contributing £62m as part of a wider project involving development at Windsor Park football stadium and the Ravenhill rugby ground.
'A state of some disrepair'
Original plans to build a showpiece arena capable of hosting all three sports at the former Maze prison site were scrapped in 2009.
The barrister pointed out that a major upgrade to Ravenhill had been completed with government funding, while a similar process at Windsor Park was well under way.
"And Casement Park is lying in a state of some disrepair," he added.
Residents opposed to the scale of the project claim that it would be replacing a ground which opened in 1953 and has not come close to selling out a lower capacity in decades.
Their lawyers argued that the scale of the development is not warranted by attendance records.
The GAA's barrister claimed there was evidence that match crowds in the past have topped 50,000.
He was told by the judge, however, that stadium capacities have undergone major changes over time.
The judge pointed out that Hampden Park in Scotland, which has a current 52,000 attendance limit, once held 125,000 spectators.
The hearing continues.