Peter Robinson: No conflict of interest over Carl Frampton fight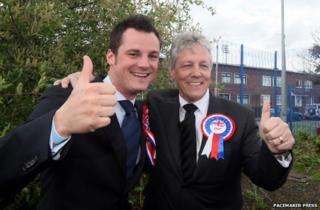 First Minister Peter Robinson has insisted there was no possibility of a conflict of interest around a world title boxing match that it is claimed his son helped to promote.
He rejected a suggestion by Justice Minister David Ford that he should have declared an interest in the fight.
He asked the justice minister to provide information on costs associated with events like the IBF title fight.
Mr Ford said he should have declared an interest over his son's alleged role.
Mr Robinson said he completely rejected any allegation he should have declared an interest and that he was "surprised".
He had asked Mr Ford about the policy of the Police Service of Northern Ireland (PSNI) charging for policing events, such as the Carl Frampton fight in Belfast last month.
In a letter to fellow executive ministers, seen by the BBC, Mr Ford said that he had agreed to provide further information on those costs at an executive meeting held the week after the Frampton fight.
The matter, he said, was first raised by Mr Robinson in relation to a commercial boxing event.
Mr Ford said he was content to follow it up with the police, but added: "I must record my surprise at learning, through the media, that a member of the first minister's family was involved in the commercial venture in question."
The justice minister said it appeared to him that the first minister should have declared an interest.
It has been reported that Mr Robinson's son Gareth helped to promote the fight, which received public funding.
However, Mr Robinson said he rejected any suggestion that he should have declared an interest.
He said the discussion at the executive related to the general policy of police charging for events.
He added "There was no suggestion whatsoever at any time of an attempt to influence decisions pertaining to the IBF (International Boxing Federation) event in Belfast.
"Rather this was merely the catalyst for the discussion. No conflict could therefore have arisen."