Arlene Foster to seek Belfast Metropolitan Area Plan decision review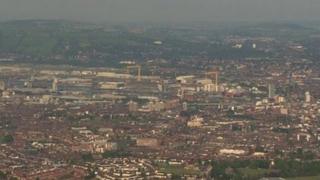 Enterprise Minister Arlene Foster has said she is to seek a judicial review over the approval of the Belfast Metropolitan Area Plan (BMAP).
Environment Minister Mark H Durkan approved the plan last month without the agreement of the full executive.
The plan identifies zones for retail, residential and commercial development.
It covers not just Belfast, but outlying areas such as Carrickfergus, Lisburn, Newtownabbey and north Down.
"After consultation with the departmental solicitor's office and attorney general's office, I've decided to issue proceedings in relation to the publication of BMAP," Mrs Foster told the BBC.
"I believe it was published incorrectly and the fashion in which it was published was not in accordance with the ministerial code and therefore I'm taking a judicial review against the minister for environment."
She added: "He did not bring the final BMAP, the Belfast Metropolitan Plan, to the executive.
"Instead of bringing it back to the executive for discussion and approval, the DoE minister published it himself."
Explaining his decision to the assembly last month, Mr Durkan said he had brought the plan to the executive on several occasions.
When questioned about whether his department was now open to legal challenge, he said he would robustly defend its decision in the courts.
He said he trusted that other ministers would be reluctant to waste public money on a protracted legal battle.