Cliftonpark Avenue: Boy, seven, hurt in north Belfast brick attack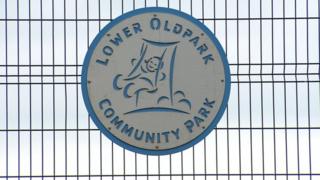 A seven-year-old boy has been treated in hospital after he was hit on the head with a brick in north Belfast.
The child was attacked at a park on Cliftonpark Avenue at about 19:00 BST on Saturday.
He was taken to a nearby hospital and treated for his injuries, which were not life-threatening.
Earlier, police said they were following a number of lines of inquiry, but have now said: "The incident is not believed to be sectarian in motive".
North Belfast DUP MLA William Humphrey described the assault as an "utter disgrace".
"I have been in touch with the child's mother to express my concern," he said.
"This is the latest in a number of attacks in the area, with the Lower Oldpark community feeling highly vulnerable."
Ulster Unionist Party spokesman Bill Manwaring said: "I'm calling on all representatives in the Cliftonpark Avenue area to work with youths in the community to stop these attacks from happening."