Ulsterville Avenue: Two families targeted in racist attacks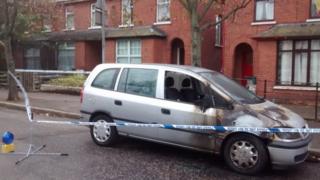 The home of a young family has been attacked and their neighbour's car has been set on fire in racist attacks in Ulsterville Avenue, south Belfast.
Both families are foreign nationals with young children and police are treating the attacks as racially-motivated hate crimes.
A bottle was thrown at the home of a family from Bangladesh at about 03:35 BST, smashing their living room window.
A car parked nearby, belonging to their Kuwaiti neighbours, was burnt out.
PSNI Det Sgt Black said: "It is believed that flammable liquid was poured over the vehicle.
"The car was extensively damaged, but no-one was believed to have been in the car at the time of the incident."
The officer appealed for information and added: "Inquiries are continuing but at this stage, police are treating the incident as a hate crime."
Alliance south Belfast councillor Emmet McDonough-Brown said he felt "deeply upset" for both families.
He said: The truth is, the people who committed the attacks need to have a good, long look at themselves because they don't offer Belfast anything.
"These type of attacks do nothing but intimidate people who made this city their home, and we should welcome the diversity and contribution that they make to our city."
Sinn Féin south Belfast councillor Máirtín Ó Muilleoir said he was "appalled".
"The racist intent and the hatred from (those) who attacked these homes stands in stark contrast to the families who live here," he said.
"They're families full of joy and love, but they they do want to see due process take its place. We want the police to bring more people before the courts as a result of these racist attacks.
"I've told (the families) that this is not reflective of the spirit of Belfast, but they want to be sure they can live in peace and that takes everyone in the local community to get together and unite around them."