Belfast International Airport seeks enterprise zone status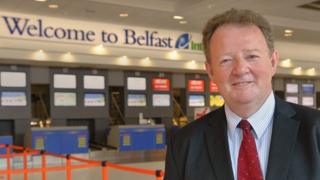 Belfast International Airport is planning to seek enterprise zone status, according to its managing director.
Graham Keddie said the airport wanted to develop land around Aldergrove into a project similar to Manchester's Airport City.
Manchester Airport was confirmed as the location of one of the government's enterprise zones in March 2011.
Centred on the £800m Airport City development, its status means businesses will be offered incentives to locate there to create new jobs and stimulate economic growth.
Mr Keddie, who took on the role in August, said Belfast International was looking to develop its land more effectively.
"We're very lucky compared to other airports in the UK and Ireland, to have 100 acres of developable land," he said.
"We should be turning this into an airport city similar to Manchester.
'Priority'
"Planning was in place, we're just currently checking that planning remains in place. Once we've checked that out we'll be looking to develop and to get enterprise zone status from the government if we can."
Mr Keddie said the project could include "logistics centres, warehouses, distribution, offices and leisure uses".
He said the airport was in discussions to bring more new routes into Belfast, with a direct flight to Canada "top of the priority list".
Belfast International could work in partnership with another regional Irish airport to make the route viable, he said.
Earlier this year, US airline United Airlines said it planned to suspend its service between Belfast and Newark for the first three months of the year.
But the airport has since announced a number of new flights, including Wizz Air services to Poland and Lithuania, Easyjet flights to Iceland and a seasonal Virgin Atlantic service to Orlando.
Mr Keddie said he agreed with former Northern Ireland Tourist Board CEO Alan Clarke's assessment that Northern Ireland did not get enough visitors from its investment in all-island body Tourism Ireland.
"I think as 'team Northern Ireland' we have to get more out of Tourism Ireland," he said.
"We have to work with them to get more. A lot of it is us asking and driving forward what we need to do.
"If you look at Northern Ireland it has a lot to sell.
'Competing'
"We have just been in Chicago with airlines at what's known as the routes conference, and selling NI is quite easy when people realise we have Game of Thrones, golf, Titanic, Cathedral Quarter - it's amazing what this place has, and to sell it should be very easy."
He also called for air passenger duty (APD) to be scrapped in Northern Ireland to help its airports compete with Dublin.
The tax on international flights has been scrapped but it is still £13 per passenger for short-haul flights.
"We're fighting Dublin with one hand tied behind our backs. We have APD, they don't," he said.
"If we could get rid of APD it would help us enormously.
"There are other ways of competing - customer service, offering the right product to passengers - that comes back to getting the right airlines in and that depends on demand."