Governments agree British-Irish joint visa scheme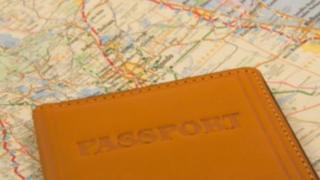 A scheme allowing visitors to the UK and the Republic of Ireland to use the same short-stay visa has been ratified by the British and Irish governments.
Travellers from outside the EU will be able to move freely between the two jurisdictions on a single permit.
The scheme will begin with visitors from China and India.
The agreement was signed at the Irish Embassy in London by Home Secretary Theresa May and Irish Justice Minister Frances Fitzgerald.
'Truly remarkable'
Ms Fitzgerald said it was a "landmark scheme" that "but a few years ago would have seemed an impossibility".
"It is truly remarkable, and a potent symbol of the transformation in British-Irish relations, that the home secretary and I are today jointly launching an initiative of unprecedented co-operation between our countries," she said.
Ms Fitzgerald said it was "an historic development in the operation of the Common Travel Area", the arrangement that allows free movement between UK and Irish citizens.
"Our aim is to boost tourism and business travel to our countries and, together, we are sending a clear and powerful message that these islands are open for business," she added.
Ms May said: "This agreement will make it easier and more attractive for travellers to visit both Ireland and the UK, while at the same time strengthening Common Travel Area borders."
Northern Ireland Enterprise Minister Arlene Foster said the scheme was "the result of a high level of collaboration on work to strengthen the Common Travel Area and move to better, common standards for border and visa issuance".
"By cutting down on the level of bureaucracy and restrictions people face, we are ensuring a visit to Northern Ireland is more attractive than ever," she added.