NI car sales return to growth after August 'blip'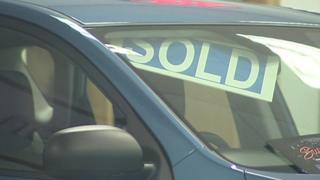 New car sales in Northern Ireland rose again in September, suggesting a fall in August was a blip in an upward trend.
The August figures showed the first fall in 19 months, according to industry figures.
In September, growth returned with 6388 sales, up 5% on 6072 sales in September 2013.
The total number of sales so far this year is 47,996 which is up more than 9% compared to last year.
'Pre-recession peak'
That is the fastest growth of any part of the UK.
New car sales are seen as a good measure of the consumer economy in Northern Ireland as there are no general retail sales figures.
Ulster's bank's chief economist, Richard Ramsey, said the 47,996 new car sales in during the first nine months of this year represented "the highest level of new car sales in six years" in Northern Ireland.
"New car sales in the UK over the first nine months of this year are just over 1% above the corresponding level of sales at the pre-recession peak in 2007," Mr Ramsey added.
'Consumer confidence'
"Meanwhile, new car sales in the Republic of Ireland for the same period are close to half the level that prevailed between January - September 2007."
The Ulster Bank economist described new car sales as "the most tangible barometer of consumer confidence".
"Given the challenging public expenditure context, we would expect this to weigh on consumer sentiment when the cuts begin to bite," he said.