NI peace process warning: US politicians write to leaders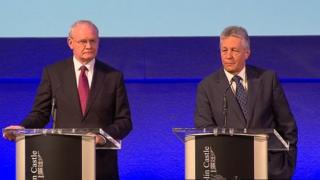 A group of senior US politicians and diplomats has written to Northern Ireland's leaders, urging them to end the stalemate at Stormont.
The letter, obtained by the BBC, comes from figures who had direct involvement in the Northern Ireland peace process.
They have warned that the peace process is losing its power to inspire and also expressed their fears that a new generation could return to violence.
There has been a series of political crises at Stormont over recent months.
They include the current budget difficulties over welfare reform, the row over so-called on-the-run paramilitary suspects, the scrapping of the Maze peace centre and reports of a deteriorating relationship between First Minister Peter Robinson and Deputy First Minister Martin McGuinness.
All-party talks chaired by US diplomat Richard Haass, aimed a resolving disputes over flags, parades and the legacy of the Troubles, broke up without agreement last December.
'Stalemate without violence'
The letter, addressed to Mr Robinson and Mr McGuinness, was signed by a number of influential Americans, including two former US envoys.
Mitchell Reiss and Paula Dobriansky both served as presidential envoys to Northern Ireland within the last decade.
Other signatories include Dan Rooney, a former US ambassador in Dublin, Bruce Morrison, who was part of a US delegation that visited Belfast just before the 1994 IRA ceasefire and Jim Walsh, who chaired the Friends of Ireland Committee in the US Congress.
Their letter states that US involvement in the 1998 Good Friday agreement was "one of America's most significant foreign policy successes in recent times".
However, it also registers their concern that "a stalemate without violence is still a stalemate".
'At risk'
The letter adds that "children growing up without a vision of a shared cross-community future can too easily learn the ways of conflict again".
The signatories urged Mr Robinson and Mr McGuinness to hammer out a compromise, recognising that all sides will have to give up certain prerequisites to do a deal.
The correspondence, dated 1 October, makes particular reference to the death of Ian Paisley Sr.
"His passing was a milestone and a cause for reflection on the Irish peace process - how far it has come, how much remains unfinished and how much remains at risk," the letter states.
The signatories also promised future US support to resolve outstanding difficulties.
"During the peace process, even at its darkest hour, unionist and nationalists alike recognized and appreciated the American role," they wrote.
"They thanked us for shining a bright light on the process and keeping the outside world focused on the developments. The light is back on and we pledge our help going forward."