Marion Millican killing: Fred McClenaghan 'thought of stabbing'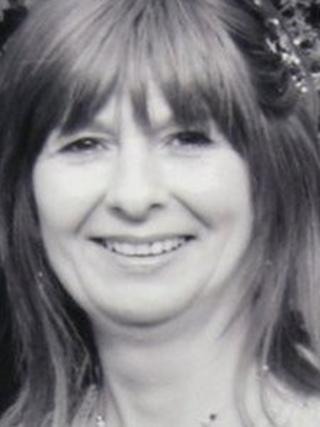 The trial of a man accused of murdering his former partner has heard that he told a psychiatric nurse he harboured thoughts of stabbing her.
Fred McClenaghan, 52, of Broad Street, Magherafelt, County Londonderry, denies murdering 51-year-old Marion Millican.
The mother-of-four was shot at the laundrette in Portstewart where she worked in March 2011.
His guilty plea to manslaughter was rejected by the prosecution on the opening day of his trial last week.
Contacted helpline
On Monday, the court heard evidence from two psychiatric nurses who said they had visited the accused over the Christmas period in 2010 after he contacted a helpline and outlined his plans to kill Ms Millican and then himself.
Nurse Kevin Hassan said he visited Mr McClenaghan on Christmas Eve, after his doctor referred his case to the Northern Health Trust's crisis response home treatment team.
"The information we got from him was that he had assaulted Marion Millican the previous week and he described his mood as being low and having thoughts of life not being worth living,'' he told Antrim Crown Court, sitting in Belfast.
"It appeared this had been exacerbated by that incident the previous week and he had taken a lot of alcohol.
"He described that he had thoughts of overdosing and stabbing Ms Millican.
"He said his mood had been low for the last nine to ten months and expressed thoughts of killing himself and his girlfriend."
Assessed
Mr Hassan said that following an assessment, it was recommended that he should be prescribed sleeping pills and anti-anxiety medication.
The nurse said he assessed Mr McClenaghan as having a "potential to low risk" of suicide and harm to other people.
He said Mr McClenaghan told him he had "no active plan" to take his own life and said he would try his best to stay off alcohol.
A second psychiatric nurse who visited him on Boxing Day to carry out a further assessment said there was no signs of anxiety, distress or agitation.
James Martin said the accused told him he had "no active plan to harm himself or anyone else", and had no intentions of harming Ms Millican.
'Letter'
Mr Martin said that on another visit on 27 December, Mr McClenaghan spoke about his feelings towards Ms Millican.
"He said he felt abandoned by his ex-partner but he said he didn't have thoughts of killing her," he said.
Mr Martin said the accused also talked about writing a letter to Ms Millican "to try and resolve what had happened to them and what caused him to act in the way that he acted and talk about his previous trauma of child sexual abuse".
The trial also heard that police informed Ms Millican of a death threat to her from Mr McClenaghan in his phone call to the Lifeline charity on Christmas Eve.
A police constable who delivered the message to her Portstewart home told the court: "I told her it was from her ex-partner. She replied: 'Him again'
"She didn't seem to be worried about that.''
The trial continues.