Kincora Boys Home: BBC Spotlight to broadcast new abuse allegations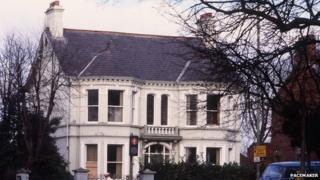 A former resident of Kincora Boys Home has described how he was taken out of the care home and introduced to other men for sex at hotels.
The children's home, in east Belfast, was the subject of a high-profile child sex abuse scandal in the 1980s.
Richard Kerr was among the young residents who were abused. He was sent to live there in 1975, when he was 14.
In a new BBC Spotlight programme, he has given an account that questions the outcome of past Kincora investigations.
Three senior staff were jailed in 1981 for abusing 11 boys in their care at the home.
Those convicted were the warden Joe Mains, his assistant Raymond Semple and Kincora's housefather, William McGrath.
However, previous police investigations and a public inquiry into the scandal found there was no evidence of a paedophile ring connected to Kincora.
The testimony given by Mr Kerr to BBC Spotlight challenges the previous investigators' conclusions that the abuses at Kincora were confined to the home.
The chair of the Home Affairs Committee at Westminster, Keith Vaz, said the account given by the victim appeared to be "new information" and must be examined.
Mr Vaz said it should be put before Fiona Woolf, who is leading the UK-wide government inquiry into historical child abuse.
BBC Spotlight - The Kincora Scandal will be broadcast on BBC One Northern Ireland at 22:35 BST on Tuesday, 7 October.