West Belfast shooting: Man critical after being shot in chest at Oranmore Street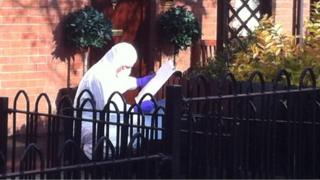 A gun attack in west Belfast that left a man critically ill in hospital was "incredibly vicious and barbaric", an SDLP councillor has said.
The 37-year-old sustained one gunshot wound to the side of his chest at a house in Oranmore Street in the Clonard area.
Police have appealed for information about the shooting, which happened at about 22:00 BST on Monday.
Tim Attwood of the SDLP said it was "a truly depraved act".
He said local people did not "want guns on our streets or people put in hospital by those taking the law into their own hands".
Sinn Féin councillor Jim McVeigh said: "This was the work of a criminal gang, who try to masquerade as republicans, while at the same time engaging in criminal activities themselves.
"Those behind this attack do not represent anyone.
"They should immediately end their violence and threats against the people of west Belfast."
The victim is being treated at the Royal Victoria Hospital in Belfast.