HIA: Pensioner says Nazareth House nuns 'medieval'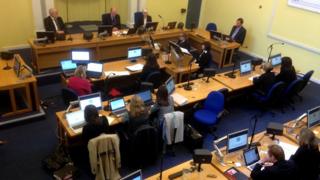 Nuns at a children's home in Northern Ireland "operated in a medieval vacuum", a witness has told the Historical Abuse Inquiry.
The pensioner was giving evidence via videolink from Perth in Australia.
He said he was sexually and physically abused both at Nazareth House in Belfast and at Rubane House in County Down.
The man said that after he was transferred in 1956 to a boys' home in Australia, he was also abused there.
The inquiry is currently examining alleged abuse at Rubane House, the De La Salle Catholic institution on the Ards peninsula.
He described the actions of two De La Salle brothers there as "brutal, vindictive and intimidating".
"I continue to have vivid and recurrent flashbacks of the humiliating and degrading attacks during my time at Rubane House," he told the inquiry.
"Unfortunately my past has now caught up with me and I've recently been diagnosed by my doctor as suffering from post traumatic stress disorder."
'Depression'
The man paid tribute to the support of his family and friends, and said he had been prescribed medication and was undergoing counselling.
"I am determined to overcome these feelings of anxiety and depression," he said.
The HIA inquiry was set up in 2013 to investigate child abuse in residential institutions in Northern Ireland over a 73-year period, up to 1995.
A total of 13 Northern Ireland institutions are being investigated.
About 200 former residents of Rubane House have made allegations of abuse.
A total of 55 former residents have come forward to the inquiry to allege that they were physically or sexually abused.