Ebola outbreak: Northern Ireland doctors have contingency plan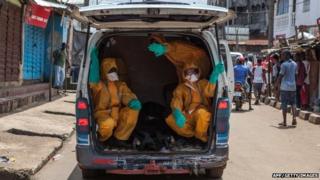 Senior doctors in Northern Ireland have been putting contingency plans in place for an outbreak of Ebola.
The Public Health Agency (PHA) said the overall risk to the public in Northern Ireland remained very low.
Dr Lorraine Doherty said they wanted to "ensure we have appropriate systems in place in the unlikely event that a case presents in Northern Ireland".
Primary care and hospital healthcare workers have been given details on what to do in the event of a possible case.
More than 3,400 people have died in the outbreak, mostly in West Africa.
There is no cure or vaccine for Ebola, which has so far infected more than 7,200 people.
Dr Doherty said: "Although the risk to the public in Northern Ireland is very low, there is a potential risk for volunteers and healthcare staff working in affected countries, especially if involved in caring for Ebola patients.
"However, if the basic precautions that would apply in all humanitarian situations are applied and the general principles of infection control are adhered to, the risk can be minimised.
"If you have travelled and stayed in the areas where Ebola cases have been recently reported, and you become ill within 21 days of returning home (fever, headache, achiness, sore throat, diarrhoea, vomiting, stomach pain, rash, or red eyes), seek medical attention as soon as possible and mention your travel history."
Dr Doherty said it was "important to remember that for Ebola to be transmitted from one person to another contact with blood or other body fluids are needed".
"As such, if Northern Ireland was to see a case of Ebola this will not result in an outbreak here," she added.
Soldiers based in Northern Ireland are among 750 military personnel being sent to Sierra Leone to help deal with the deadly outbreak.
About 40 troops from the Royal Scots Borders 1st Battalion - based at Palace Barracks in Holywood, County Down - have already arrived in the country.
The Princess Royal visited the troops at Palace Barracks on Wednesday.
Commanding officer Lieutenant Colonel Matt Munro said: "There are some peculiar threats to this operation clearly relating to the Ebola virus, and of course there is a risk of soldiers from this battalion contracting the virus but it is a very low risk because there are all sorts of very practical and sensible measures that my people can employ to ensure that the risk is kept to an absolute minimum.
"And it is worth saying also that, for the most part, my soldiers have been queuing up to deploy.
"There are a lot of young men in the battalion very keen to go on operations. They joined the Army to be challenged and to do different things and evidence of that is that very many of them want to go."