Purple podded peas: From Lisburn garden to Raymond Blanc menu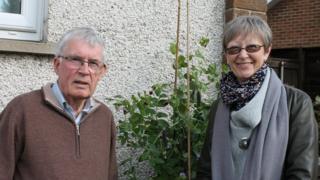 Josh Toombs has been growing Carruthers purple podded peas for 50 years in Lisburn, County Antrim.
Now the rare vegetable, carefully cultivated in his back garden, is on the menu at Raymond Blanc's Michelin star restaurant in Oxfordshire.
The peas found their way into the award-winning kitchen with a little help from Radio Ulster's Gardeners' Corner programme.
David Love Cameron, a scholar at Belmond Le Manoir aux Quat'Saisons, contacted the show at the beginning of the year looking for the uncommon ingredient.
Mr Toombs, 83, responded and got in touch, armed with Carruthers purple podded peas.
"I heard a request on Gardeners' Corner asking for purple podded pea seeds for David Love Cameron, who had won a scholarship to work in a heritage garden over in Oxfordshire," Mr Toombs told the BBC.
"With the help of Cherrie McIlwaine we managed to send them some seeds which are apparently growing very satisfactorily now, and they are very pleased with them."
"I'm very pleased. They don't taste so good when they are raw, but they taste very nice when they are cooked," said Josh.
"They have a very nice flower which is purple and pink," he added.
Josh watched his own father grow the rare seeds.
"They are very easy to grow. The only thing is they are 6ft high and they need very strong sticks or the wind will blow them down.
"My father was growing them before me and I've been growing them 50 years.
"My wife describes them as a cross between a pea and a broad bean.
"I don't have any hard and fast rules, they grow very easily. I let them dry out on top of the wardrobe, some in the pod and some loose," he said.
A friendship has also blossomed between the two men.
"David keeps me updated about how things are going," Josh said.
"He says they are very successful and he is very pleased with them.
"It is great to know they are serving them up in the restaurant and they hope to grow them for future years and include them in their menu."