NI super councils: 300,000 householders face rise due to changes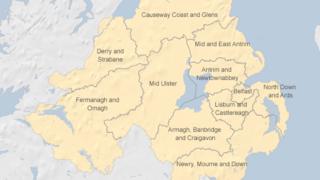 At least 300,000 householders in Northern Ireland will face rate rises as a result of moving into the new so-called super councils, according to figures from the Department of Finance.
It is estimated four out of every 10 ratepayers will be charged more.
Northern Ireland's 26 district councils will be replaced by 11 larger councils next year.
The Stormont executive has committed £30m to a rebate scheme to ease the burden of the rises.
It is thought businesses and householders in the Castlereagh, Fermanagh, Coleraine and Strabane district council areas will be the worst affected.
The rebate is designed to ensure the worst affected will pay the increases gradually over a number of years, but the details of the scheme have yet to be announced.
Finance Minister Simon Hamilton, who is devising the rebate scheme, told BBC's Good Morning Ulster on Friday that reporting of the rates rise facing some was "very alarmist".
'Assistance'
"We recognised right from the start that whenever you're bringing councils with different rates together that there would be issues in the convergence of those," he said.
"We have set aside £30m for what we're calling a rates convergence scheme which will offer assistance to all of those people who will see their rates bills go up as a result of councils merging together.
"What we are looking at is a package of using that £30m to smooth out the problem over a period of a couple of years to allow those councils to get their feet on the ground and to start to make those sort of savings that I think that they can make."
After the rebates scheme expires, Belfast City Council has estimated that Castlereagh ratepayers moving into the new Belfast super council will have to pay significantly more.
'Extra burden'
According to their figures, someone living in an average sized house in Castlereagh, currently worth about £150,000, can expect to see their rate bill rise by 15% or the equivalent of about £137 a year.
For businesses, the cost of becoming part of the new Belfast super council will be even higher. They will face a rise of 17%, after the discount period has elapsed.
Castlereagh trader Angela Morgan said it will be an extra burden she cannot afford.
"It could be potentially devastating for the business. Businesses will struggle and may even have to close. I haven't any idea what we are going to get extra for our money," she said.
'Relief needed'
The SDLP's Alex Attwood, the former environment minister who helped introduce local government reform, said more relief may be needed to help rate payers.
Mr Attwood said: "The consequence of convergence is that the rate burden will change within the new council areas. If anyone is pretending otherwise they are not being fully honest with people.
"Thirty million was secured by me to help that transition, and if hard figures are coming in that say the burden is even greater than people might have anticipated, then there should be a budget discussion in order to help people to ensure there is no further burden placed upon them."
'Significant disparity'
If 300,000 home owners are set to be losers under the system, there is no guarantee the remaining half million or so ratepayers will be winners. What they will end up paying will depend on the new rates levels struck by each new super council.
A spokesperson for the Department of Finance and Personnel (DFP) said: "The new councils are free to strike whatever rate they consider appropriate to meet their new expenditure needs.
"DFP expects that, where there is a significant disparity between the existing councils that are coming together, the new district rate will be struck at a level that lies between the existing district rates but DFP cannot control this in any way."