David Ford says Kinawley, Fermanagh, explosives threat to community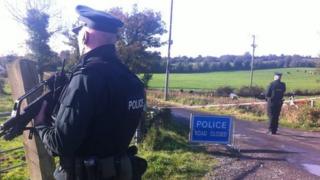 Explosives and other weapons found in County Fermanagh represented "a threat to the community", Northern Ireland's justice minister has said.
David Ford congratulated police over their operation that began on Wednesday, with searches centring on a farm close to the Irish border.
Police said a "significant" amount of explosives had been found and linked the weapons to dissident republicans.
A 43-year-old man is still being questioned about the find.
Searches of buildings, vehicles and fields at the farm in Kinawley are continuing on Saturday.
"It is absolutely clear that all that would have happened would have been a threat to the community, potentially to civilians not involved in any way with the security forces - death and destruction caused for no reason whatsoever," Mr Ford said.
"My message is quite simple - give up, there is no cause that could justify the type of actions which were being proposed, it's time that people give up.
"There is no justification whatsoever for this type of violence. It must be condemned and the community must stand up against it."
'Serious harm'
Police said the find had "prevented serious harm by violent dissident republicans".
George Hamilton, Chief Constable of the Police Service of Northern Ireland (PSNI), said: "We believe we have prevented serious harm being caused to our communities and I welcome the efforts by my colleagues in the crime operations department."
He added: "We do believe that violent dissident republicans are behind this activity in Fermanagh."
The secretary of state congratulated the security forces on the operation.
Theresa Villiers said: "I welcome the efforts of the PSNI which has resulted in a significant find of explosives and other terrorist material.
"Their actions have undoubtedly saved lives and have made Northern Ireland a safer place."
Detectives have been granted a further three days to question a 43-year-old man, arrested on Wednesday as a result of what they called "suspicious activity".
A 35-year-old man arrested in north Belfast on Thursday has been released unconditionally.