Batman returns: Caped crusader casts a shadow over Stormont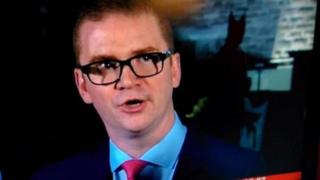 Some might say it would take a superhero to sort out Northern Ireland's budgetary crisis.
So, has Batman come to the rescue of Finance Minister Simon Hamilton and his executive colleagues?
It appeared that the caped crusader was in the background when ministers gave a media conference at Stormont Castle on Thursday night.
They had just come out of a lengthy meeting dealing with the budget deficit and agreed to borrow £100m from the Treasury.
But as the pictures were broadcast on BBC NI, a shadowy figure behind the head of the finance minister caused a bit of a stir on Twitter.
Chris Johnson tweeted a picture of Mr Hamilton, adding: "Did Batman help the Stormont ministers last night secure the £100m loan?"
Paul Smyth tweeted the same picture, saying: "Finance Minister Simon Hamilton on @bbcnewsline this morning - with #Batman in the background! Rescue."
And BBC News NI's business correspondent Julian O'Neill also joined in, saying: "Stop the press. Batman helped Simon Hamilton sort Stormont budget."
It is not the first time that bat-like ears have appeared on the screens of BBC News NI.
In September 2012, Twitter user David Rowney spotted something a little odd behind the head of BBC News NI's political editor, Mark Devenport.
He tweeted: "Its Batman MT @bbcnewsline: Love this "@taramillstv: I'd heard politicians call @markdevenport a little devil."
As for the mystery of the Dark Knight rising up at Stormont Castle, well, it turns out there's a simple explanation.
He was simply a trick of the light, or perhaps the dark.
Daylight pictures reveal that what looked like a cartoon superhero is, in fact, a shadow of what has been described as "stone gryphon" at Stormont Castle.
Twitter users might love the thought of fictional figure keeping a watchful eye on their elected ministers.
But if he was there, Batman has already taken off in his bat-mobile and is fighting an assortment of villians back in Gotham City.