NI economy 'slowdown around the corner', according to Ulster Bank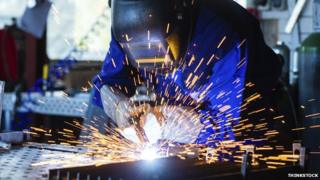 Fresh data on the Northern Ireland economy shows growth for a 15th successive month - but there is a warning of a "slowdown around the corner".
The information was provided by Ulster Bank through a survey of new orders, employment and exports among private sector firms.
It said that in September manufacturing was the strongest performing sector.
However, the bank's chief economist predicted it may not last.
"In the near-term, a robust rate of growth amongst manufacturers should continue, with order books expanding in September at their fastest rate in almost eight years," said Richard Ramsey.
"Beyond that time-horizon, there is mounting evidence that a slowdown is around the corner.
"The UK manufacturing sector saw the rate of growth in export orders almost grind to a halt last month."
The Eurozone is also "flirting" with recession.
Mr Ramsey sai d: "Clearly local firms will not be immune to slowdowns within the economies of their key trading partners."