Stephen Nolan wins Nick Clarke award for Pastor James McConnell interview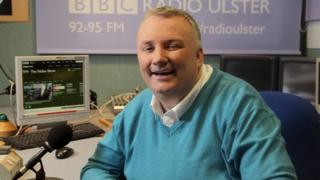 BBC Northern Ireland's Stephen Nolan has won the Nick Clarke award for his interview with a pastor who made controversial remarks about the Muslim faith.
The broadcaster was judged the winner for his interview with Pastor James McConnell on The Nolan Show in May.
The Nick Clarke award is presented for outstanding broadcast interviews.
It is named after the late broadcaster and presenter of BBC Radio 4's The World at One.
"It was a challenging interview on a subject - the pastor's comments on Muslims - that was highly charged," said Kevin Marsh, a former editor of the BBC College of Journalism and one of the judges of the award.
"Nolan was well informed and well prepared and tested the pastor's arguments robustly and persistently.
"The overall effect was an engaging interview in which not just the pastor's statements but his underlying attitudes were explored."
Stephen Nolan said: "Nick Clarke was an incredibly skilful interviewer and I am truly honoured to receive this award in his memory."