Kinawley search: Man in court after bombs and weapons found at farm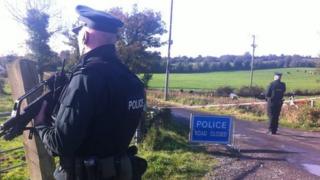 A man has appeared in court on explosives and terrorism charges.
Barry Francis Petticrew, 43, from Drumbroghas, Swanlinbar, County Cavan, appeared in court in Enniskillen.
He is charged with having explosives and ammunition with intent to endanger life and having articles likely to be of use to terrorists.
It follows the discovery of 500kg of fertiliser, homemade explosives, pipe bombs, a gun and ammunition at a farm close to the Irish border.
During the brief court appearance, Mr Petticrew spoke once to say that he understood the charges.
A detective said police believed they could connect him to the charges and he was remanded in custody until 10 November.
He smiled towards the public gallery as he was led from the court.