Loyalist Gary Haggarty faces 212 charges, court told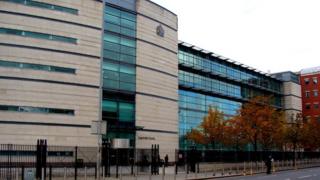 About 10,000 pages of evidence have been compiled in a case against a so-called loyalist supergrass, a court has heard.
Gary Haggarty, 42, faces 212 charges, including murder, conspiracy to murder and directing terrorism.
A preliminary enquiry involving the alleged former Ulster Volunteer Force commander-turned assisting offender was due to take place in Belfast on Monday.
But proceedings were adjourned after the defence sought a two-month stay.
Mr Haggarty, whose address was given as c/o the Police Service of Northern Ireland, is believed to be living at a secret location in England.
He did not appear for the brief hearing before Belfast Magistrates Court.
A list of charges against him include:
Five murders, 31 conspiracy to murder and six attempted murders
Four kidnappings, six false imprisonment and five hijacking
Twelve counts of possessing explosives with intent to endanger life and 47 counts of having a firearm with intent
Eighteen charges of wounding with intent to do grievous bodily harm
Three counts of arson, conspiracy to defraud and concealing the proceeds of criminal conduct
Two charges each of directing terrorism and belonging to a proscribed organisation
Seven counts of possessing money or property for the purposes of terrorism
The alleged offences span a 16-year period between 1991 and 2007.
The district judge was told the full papers have just been received by Mr Haggarty's legal representatives.
With the prosecution consenting to the application to adjourn, the case was listed for a review in December.
Further details emerged as the cases of two Belfast men separately charged with murdering two Catholic workmen were then mentioned.
James Smyth, 48, and Mark Campbell, 43, are jointly accused of the murders of Gary Convie and Eamon Fox in May 1994.
The victims were shot as they ate their lunch in a car at a building site on Belfast's North Queen Street.
Complex case
Mr Smyth, from Forthriver Link, and Mr Campbell, of Canning Place, are further charged with attempting to murder a third man, Donal Laverty, in the same attack.
They were charged by detectives investigating a campaign of UVF-linked murder and serious crime.
At previous court hearing defence lawyers claimed the allegations are based on evidence from Mr Haggarty.
On Monday, prosecutors stressed the size of the case against Mr Haggarty.
The court heard it was complex and ran to some 10,000 pages.
But a defence solicitor opposed prosecution attempts to have Mr Smyth and Mr Campbell's cases put back for three months.
He argued that it would be an unreasonable and unacceptable delay.
The judge listed Mr Smyth and Mr Campbell's case for a further mention on Friday. Mr Haggarty's case has been listed for review in December.